Why bright colours improve your well-being
Mar 27th, 2009 | By
Roger Ellman
| Category:
Featured Articles
,
Must Read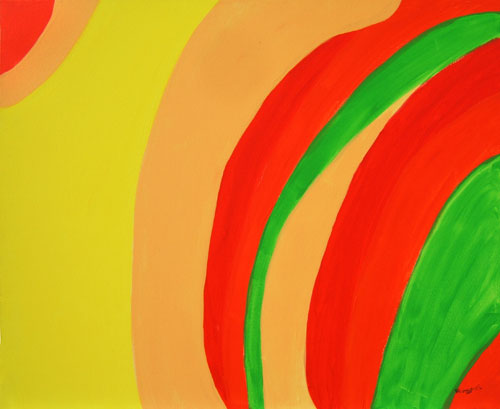 One of my paintings. You should buy it! Why, because it is a no side-effects balm, medicine, sedative, soother, energizer, envigorator and cure for just about anything…and more.
Why?
Bright colors create energy, positive thoughts pleasure and good humour.
There's good reason for fairgrounds, festivals using bright colours – reds, yellows, oranges, bright blues and vibrant green hues. Grey is somber (smart looking because we've been conditioned to think so) and drains energy from the surrounding area it absorbs light from. Black is a good contrast to – well…colour!
Try wearing a brightly coloured shirt or blouse, try to forget what you are wearing and see how your day goes, how you enjoy it, how fired up your imagination is, how people respond to you – note it all down. Then try a day wearing nothing but dull colours, muddy earth tones, grizzly grey, deep dark black…make notes, compare.
Got an office or a den and nothing in bright colours on view? Not even an ornament, picture or painting? Well try this. Put something really powerfully bright a brilliant primary colour or mix of colours…glance at it occasionally while you are working, look at it as you enter the room – how's that feel?
See also: