The Shapes of Things – a story taster
Aug 18th, 2014 | By
Roger Ellman
| Category:
Featured Articles
,
Must Read
,
News
"Something is wrong with the way people live. You can tell by the way they walk" said Doherty.
Rivers were flowing as usual. Streets, filled with shoppers and of course cars. The cars edged forward at a slower pace than the pavement browsers achieved – more cars than road space. All were predictably "there".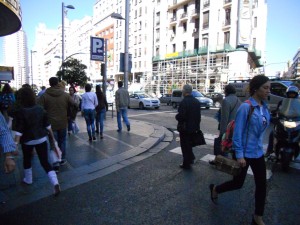 A lonely sailor walked into Brenton-Stadely, the department store with more floors than some high rise office buildings. This famous retail temple still thrived between its customer's devoted attention to web stores, due to the great showmanship and flair for entertainment, of it's owner Harry Hadsfield.
Brad Phillipps, was looking for a gift that would ensure a smile on Quandia's face and perhaps, a sure thing for the sort of pleasure he sought next time his ship finished it's long anchoring process in the oily, messy port of Juandupe. As a sailor, he thought, his life was full of strange revelations from visits to the strangest of ports ships called at, and the need to use inspired methods to win approval. As a man, he was both willing to learn and happy to take chances.
Further down the street a friendly argument had broken out between Pierre Almovarto and Jack Doherty. They were trying to prescribe a solution to the world's monetary problems, while drinking thick brewed cups of milky coffee, together with delicious, if unwise, creamy pastries.
"Something is wrong with the way people live" Jack Doherty said.
Pierre asked "what do you mean?", expecting a repeat performance of Jack's theory relating to artificially controlled incomes and out-of-control government expenditure.
But Jack just said, "you can tell by the way they walk".