Greece and Hope
Sep 16th, 2013 | By
Roger Ellman
| Category:
Featured Articles
,
News
,
Politics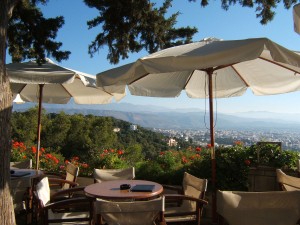 Greece: Do we, Greeks, have any hope?
[Question and answer originally published on Quora.com – September 14, 2013 ]
Absolutely you do. Just not as soon as we'd all like for you.
With one of the best known collections of topographic and scenic beauty, wonderful history that's still visible, one of the top 5 hospitality experiences in the world, a plethora of well-trained engineers and many other skills and disciplines, a sense of freedom, a willingness to discuss anything and everything, there is hope.
It appears likely that it may take a few years to truly climb out of the morass that has been sprayed across the country over the last 20 or so years by allowing successive governments and their agencies to shift the view to what government can give rather than what people can create.
This change from government (and its agencies) to people and their endeavours is happening slowly, worldwide. It is most urgent in the countries which are hurting most from the "culture of the government magic wand, fairy-tale promises". But it is happening as bit by bit, people are thinking for themselves, doing things for themselves and helping themselves (and those they choose to care about)....and realizing that:
1). Anything a government does is paid for by you out of your pocket, or the next generation if you don't pay out of your pocket.
2). Better to rely on people who create things and do things than on public spokespeople who promise things and the few things they do they pay for out of money that's not there (debt) or money from your pocket.
So – is it all about money. No. It is not. But money is the scaffolding upon which you climb to repair the building.
But building something new creates money.
And then, the aforementioned hospitality, the treasures of the nation are there to create wealth, community and more.
Does this mean other changes are needed? Yes. But nothing "Greek-style" that is good need be lost. Everything can be gained.
Oh and dream, be original and make choices....don't make comparisons with other countries...do things that are far better and beyond the rest.
There is hope – with good reason.