The car that could
Mar 27th, 2009 | By
Roger Ellman
| Category:
News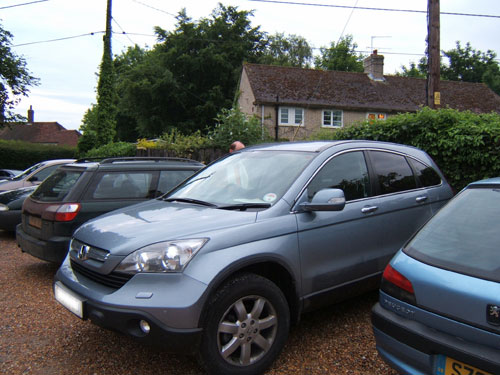 "Would you mind taking this car?" said the girl at the Avis counter in London. Having booked a mere Ford compact car, the suggestion was most welcome. Perhaps my cheeky, childish attempt to get upgraded by asking "of course if you have a Ferrari or Aston Martin available, I don't mind a free upgrade" might have helped to create this pleasant surprise.
"Yes, I'll take it" I said calmly, remembering how often traveller's luck has played its part in many of my trips.
Finding yourself following a gunmetal grey Ferrari in heavy one-hour-to-navigate traffic, waiting to drive across the Dartford Crossing's dramatic span bridge across the Thames pays great rewards. The vibrating pitch of metallic trumpet from the Ferrari's exhaust symphony, makes you feel like a joint owner of the thoroughbred. Yet the Honda C-RV has equal, yet different temptations and appeal.
See over the Ferrari, over the hedge rows of England's glorious winding B roads and country lanes, arrive at your luxury bed and breakfast, reached nimbly and surely with all time four wheel drive down a muddy, sloshy, slippery-to-ordinary-cars track, throw in every item you may want for a day's outing and see everything stowed neatly in useful pockets and trays. Feel like hurrying where speed limits are not governed by cameras, thought sensors and heart rate monitors – viewed in some central UK population behaviour control centre, feel the unstoppable pull and push of Honda's dynamic and willing turbo diesel engine.